Collecting the Drops: A Water Sustainability Planner
Preface
---
January 2007
Each year, more users are successfully making the business case for the sustainable use of water. Today's business climate is significantly different than that of even five years ago. The high cost of energy combined with intense global market pressures has placed many businesses in a challenging position. Through all of these changes, the issue of water continues to be one of the most complex sustainability topics. The resource is plentiful, but is not geographically distributed in the places of need or of the quality needed. Businesses, communities and ecosystems all depend on fresh water to prosper. The first GEMI water tool, Connecting the Drops Towards Creative Water Strategies: A Water Sustainability Tool, was created to establish a link between water sustainability issues and the business case. The tool was created to help companies better understand an organization's relationship to water and to assist in making a business case, while gauging opportunities and risks.
The signals of the challenges faced by water users come in all forms. Some are faint, some pronounced. All of them must be understood and balanced for a company to create a forward looking strategy that can be implemented. As more companies understand the critical link between sustainability and the contributions from each of the signals, they implement programs to balance their needs and supplies with those around them. Converting the concept of sustainable water strategy into actionable plans at a site or unit level is a challenge.
GEMI's Water Sustainability Work Group developed this tool, Collecting the Drops: A Water Sustainability Planner, to complement other GEMI tools. This tool is intended to guide the user through the process of taking a corporate sustainability strategy and converting it into a site or unit strategy for water. Collecting the Drops: A Water Sustainability Planner is not a Code of Conduct for companies. It is not designed to suggest that companies must be actively engaged in all of the module assessments. The three areas of focus, or Modules, will assist users in understanding water use and impacts, water risk assessment and provide case examples of techniques that GEMI member companies have used. This information is then combined with simple engineering estimates and tools to give the user an overall risk assessment output that is unique for their unit.
Collecting the Drops: A Water Sustainability Planner has been designed to provide users with a clear picture of where they could focus their actions on a unit level to support both local and global sustainability efforts. As the ancient proverb says, "Enough pails of earth — a mountain. Enough pails of water — a river." Collecting the Drops: A Water Sustainability Planner will allow all users to collect the drops and fill a pail. With enough pails we can make a large impact on the global environment and our corporate citizenship efforts.
| | | |
| --- | --- | --- |
| Karl Fennessey | Paul Halberstadt | Harry Ott |
| The Dow Chemical Company | ConAgra Foods | The Coca-Cola Company |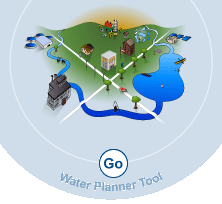 GEMI
1155 Fifteenth Street, NW,
Suite 500
Washington, DC 20005
Phone: 202-296-7449
Fax: 202-296-7442
info@gemi.org