Collecting the Drops
"Rules of Thumb"
---
Sanitary Water Usage
10 -25 gallons per person per shift
The lower value is used where there are just toilets. A higher value is used where there are toilets, showers, full kitchen services, that is, food preparation and dish washing.
Irrigation Usage
Number of sprinkler heads x the flow capacity per head (e.g.; 2.5 gpm x the duration [minutes] of water application)
Inspect the irrigation system during operation to determine if there are leaks from broken sprinkler heads and from water distribution lines.
Wastewater Streams from Water Treatment Operations
Reverse Osmosis Reject Flow

Reject stream generally ranges from 10 to 50% of the feed to the system depending on the salinity and the desired purity.
Reject flow can be higher than the indicated range. RO reject streams can be used as cooling tower makeup if the water is softened prior to the reverse osmosis system.
Cooling Tower Usage
Windage Loss

Commonly 0.1 to 0.3 % of the Recirculation Rate
The tower recirculation rate can be obtained from the manufacturer's literature and or head versus flow curve for the pump.
Boiler Usage
Boiler Blow Down

Range of 4 to 8 % of boiler makeup
Other Uses
1 drip/second

10,000 l/year or 2,642 gal/year
Water Flow Estimation

Use a bucket and stop watch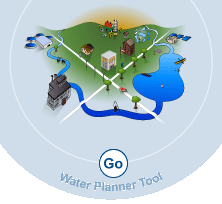 GEMI
1155 Fifteenth Street, NW,
Suite 500
Washington, DC 20005
Phone: 202-296-7449
Fax: 202-296-7442
info@gemi.org